MonMotha wrote:I don't think Betson ever even distributed Disney's Rave. The legit disc certainly wouldn't say that on it since it would be an import. Also, IIRC it's "Dancing Stage Featuring Disney's Rave". There was a US release titled "Dance Dance Revolution Disney Mix" (I think), but it was console only as I recall. Your boot ROM on the Disney's Rave board is also not an original. Now, it may be a copy of the original mask ROM, but normally that's another indication of a bootleg.

What I'm amused at is that it doesn't even have to install to the onboard flash to run. Apparently the whole program fits in RAM. I can't say I'm totally surprised. It's a rather small game compared to many of the other titles.

It's normal for Disney's Rave to not have a flash card. It didn't use one.

Your Extreme might also be a bootleg, though it does have an original boot ROM on the board (there are bootlegs that work with this). Extreme definitely needs to be installed onto the onboard ROM before it can run, so the fact that it didn't immediately boot on your Disney's Rave board is not surprising either. Depending on the bootleg, the process to install it varies. If you do actually have a legit one, it will indeed be keyed to the IO board in your Extreme system. Note that it keys to the IO board, not the main board, as the main board does not have a unique electronic serial number whereas the IO board does.
Yeah I found it very odd, so I contacted a buddy of mine owns an arcade with a 7th mix, so we went and swapped his 7th CD with the Disney CD, Removed the flash cards and security chip and sure enough, it booted right up in Disney's rave, we both more-less laughed as he (nor I) have ever seen a DDR version boot from the CD without the security cart, flashcard and without having some sort of modification on the PCB, but he mentioned the same thing, he has been trying to get a Disney's rave but said getting a legit one through import was nearly impossible and Betson didn't have upgrade kits for this version (Which he mentioned was very weird that it was on the CD as he goes through them for most of his arcade repairs) and like myself he is interested in legit copies, which probably won't ever happen, but it was worth a shot, Seller agreed to refund me 100% so that is good.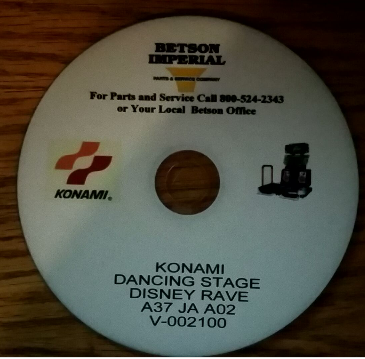 I always wondered though where the security cart pulled the serial from, nice to know it's the I/O board, as I always assumed the actual PCB had the serial number on it.