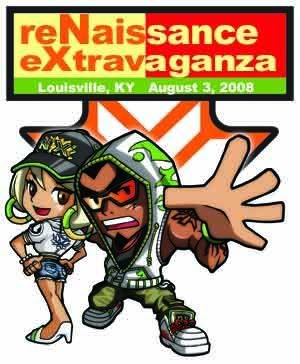 Date:
August 3, 2008
Registration begins at 12:30PM. First round of Crazy starts at 1:30 PM
Location:
Renaissance Fun Park
g201 Park Place Drive
Louisville, Kentucky
(502) 253-9700
Mix:
Either NX1 or NX2. It depends on what is available to me.
We will be using my pads.
Cost:
$5/division
Tech/Crazy
- Double Elimination
Qualifier Method:
Each person will be randomly seeded on a standard double elimination bracket.
- Best 2 out of 3 songs per match. Higher seed chooses song, Lower chooses pad side, and the order is switched for the next song. If a third song is reached, a random song from the songs currently available at that point in the tournament will be chosen to be played. Winner is determined by score, not PA. If the random song arrives at a tie/double FPC, one more song will be chosen only from a list of all songs one skull or higher.
- A song may only be picked once by the same person in the duration of the tournament.
- Mods that either change the chart or effect both players are not allowed.
- When the tournament reached the final six players, all tiebreakers will become remix/another step/full songs randomly chosen
- The use of Bar will be allowed for the entire tournament
- The Finals will be a best 3 out of 5 Nightmare round, with all songs randomly chosen from a select list.
Hard(?)
- Single Elimination. All songs are selectable at all stages of the tournament. The Finals will still be best 3 of 5 songs.
- Sandbagging. It's called at my discretion. If you do it then thank you for the $5 donation.
Freestyle
- Scoring to be determined, but expect the same format as last time. Three judges will grade the performance of all contestants based on several criteria. Depending on number of potential entrants, one or two songs may be available to be played. To be safe have two freestyles ready. Winners will be determined by adding up the scores from both performances. Highest point total wins.
King of the Hill version 2.0
- This event will be free to anyone.
- Everyone that's registered goes into a bag.
- Prior to every round, everyone selects one song that goes into a second bag.
- Two random people are drawn to face each other, and each song they play is drawn from the bag of chosen songs. Best 2 out of 3 songs wins.
- Tiebreaker is a completely random choice.
- At the end of each round those left are recirculated into the bag and new songs are chosen.
- In the finals, instead of the last two people choosing songs, everyone previously eliminated in the tournament gets to pick songs for them to play. Best 3 out of 5 songs wins.
Finals Song List
Anything in Special Station that has a Nightmare Chart
A Maelstrom
Astral Song
Beat # No. 4
Beat the Ghost
Caprice of Otada
Compunction
Energizer
Faster Z
Feel the Soul
Higgledy Piggledy
It's My Business
Jam O Beat
Monkey Fingers 2
No Despair
Pumptris Quattro
Solitary 1.5
You Fall in Me
Dignity
Love is a Danger Zone
Love is a Danger Zone 2
Mistake
Final Audition 2-1
Final Audition 2-2
Point Break