There are a few things that any dancer should be equipped with before heading off to play dancing games at their favorite arcade. More and more people are joining the new craze that is "In The Groove" so here's a little guide to help out the newbies. You can see below some of the more common items: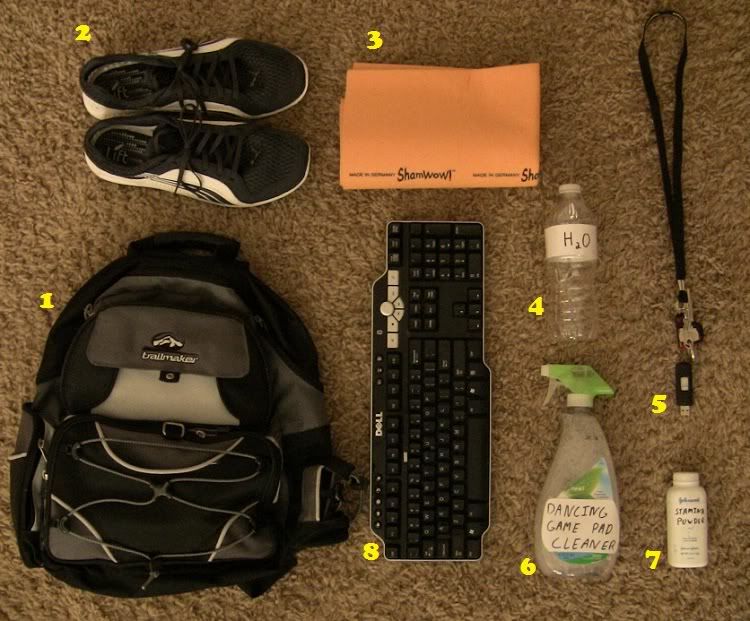 1) Backpack
If you see someone with a backpack at the arcade, chances are they're an ITG/DDR player or a pedophile. These play a key role in transporting the rest of your dance game equipment.
2) Dance Game Shoes
These are your favorite shoes for stomping arrows. They may be worn on your feet on your way to the arcade but any real player wouldn't want to get the pads all dirty. I will go into detail about dance game shoes in another article.
3) Towel
Don't forget to bring a towel. Playing dance games inherently makes you extremely sweaty so this is critical. In case of dire emergency, a shirt sleeve may be subsisted.
4) Beverage (Optional)
Bring you're own drink if possible, don't be that guy that runs to the water fountain between songs making your buddy wait. Also be aware that not all locations will have water fountains.
5) USB Drive
All you need is 256 MB to save your high scores and load all you're favorite customs. I recommend Sandisk brand.
6) FA Spray
For those pads that are slick with dust or just plain dirty, wipe 'em off with some good ol' glass cleaner. Most players use straight Windex but this causes too much friction for my taste. A water mixture works decently.
7) Stamina Powder
Overdo the Windex? Too much friction making those long streams really tiring? Toss on a little baby powder and literally glide through those 15s. Just don't pull a FR4 Mad Matt.
8) USB Keyboard
Anyone who's serious about dance games is willing to hack into the game to add songs no one else likes, change the timing windows, or put on incomplete/unstable themes that crash the machine every other set. Unfortunately I don't know much about that stuff or hacking in general, sorry.
9) Digital Camera
(not pictured)
Don't let anyone call Canadian on your scores. Just remember, PICS OR FAKE.